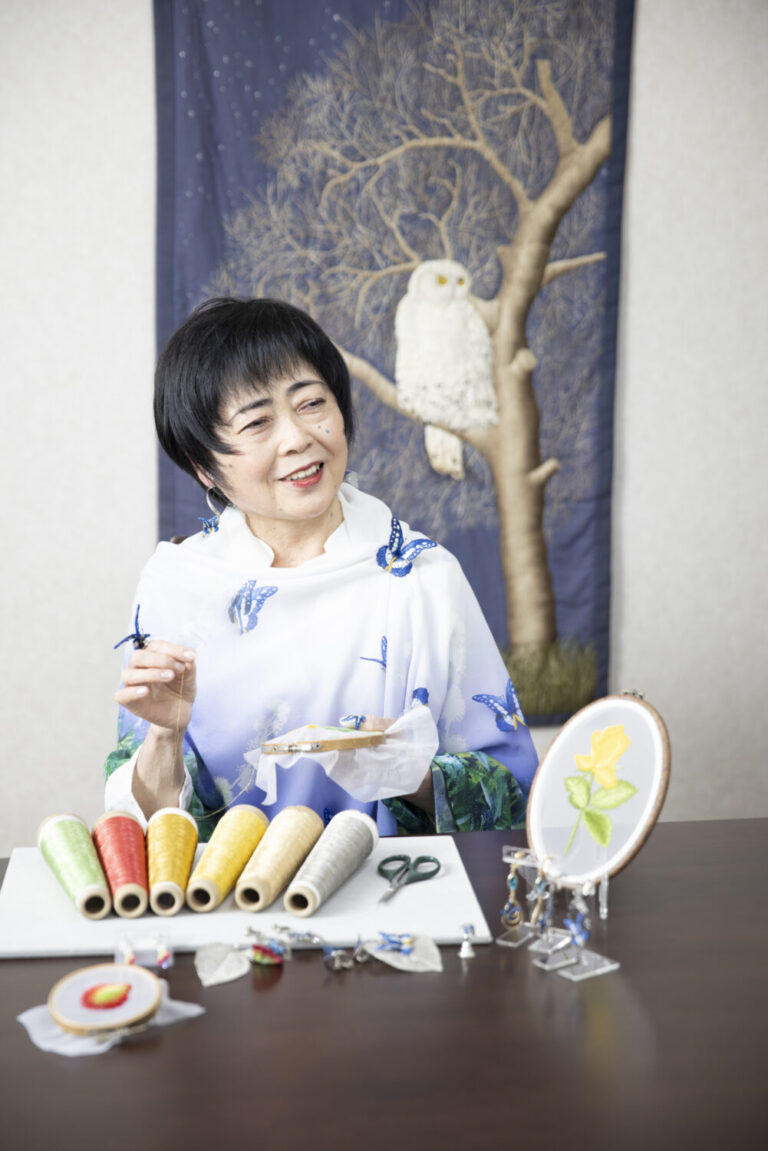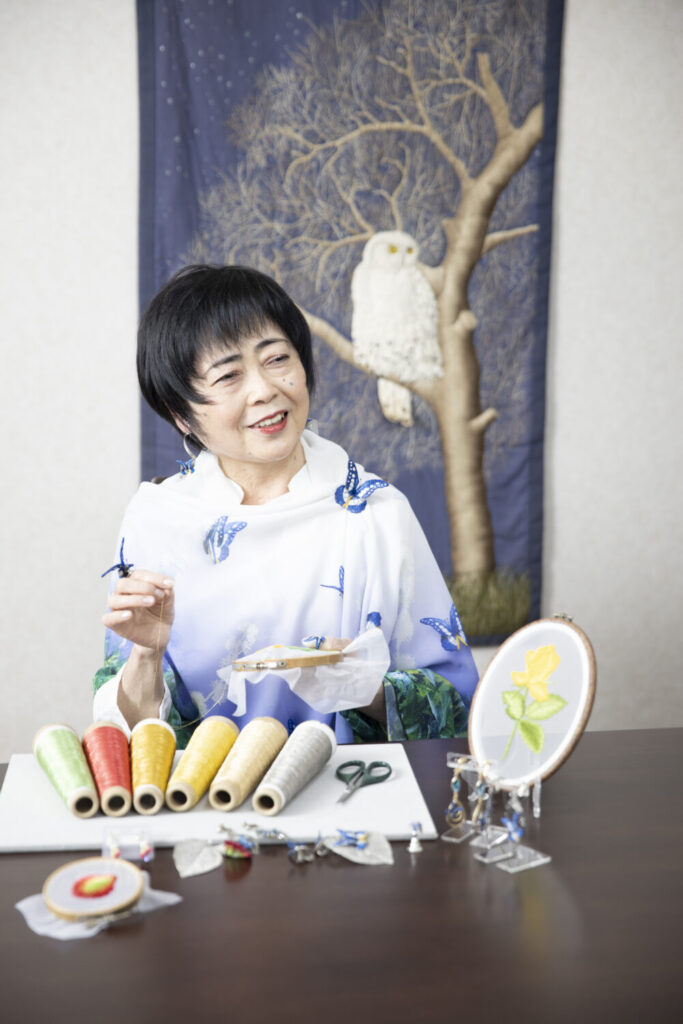 About Sayoko Kitai: My starting point
"I would be thrilled if I can see my boys' happy faces more often."
When they were younger, my two boys loved cartoon characters and F1 racing cars, so I started stitching designs like those on their clothes, bags, and other accessories to make them happy. As a self-taught embroidery artist, in 1990, I decided to participate in a competition. Under the theme of "my dream room," I crafted a tapestry – my first 3D embroidery work – which won Grand Prix. This spurred me on to make a career from embroidering, which I enjoy to this day.
Invention of Rittai-Shisyuu Sayoko – the double-sided embroidery technique
While honing her embroidery techniques, Sayoko Kitai considered how to stitch the same pattern on both sides of a piece simultaneously. In 1994, as a result of trial-and-error, the Double-Sided Embroidery technique was finally invented. For this technique, a special way of thread finishing and single-strand threads are used. When stitching the reverse side of an embroidery art piece, stitches must be made in the same direction as those on the front side. By using several different-colored threads, an embroidery work can also be made tactile.
Sayoko Kitai trademarked "Rittai-Shisyuu Sayoko" following advice from a fan who foretold that "3D embroidery will definitely become popular in the near future."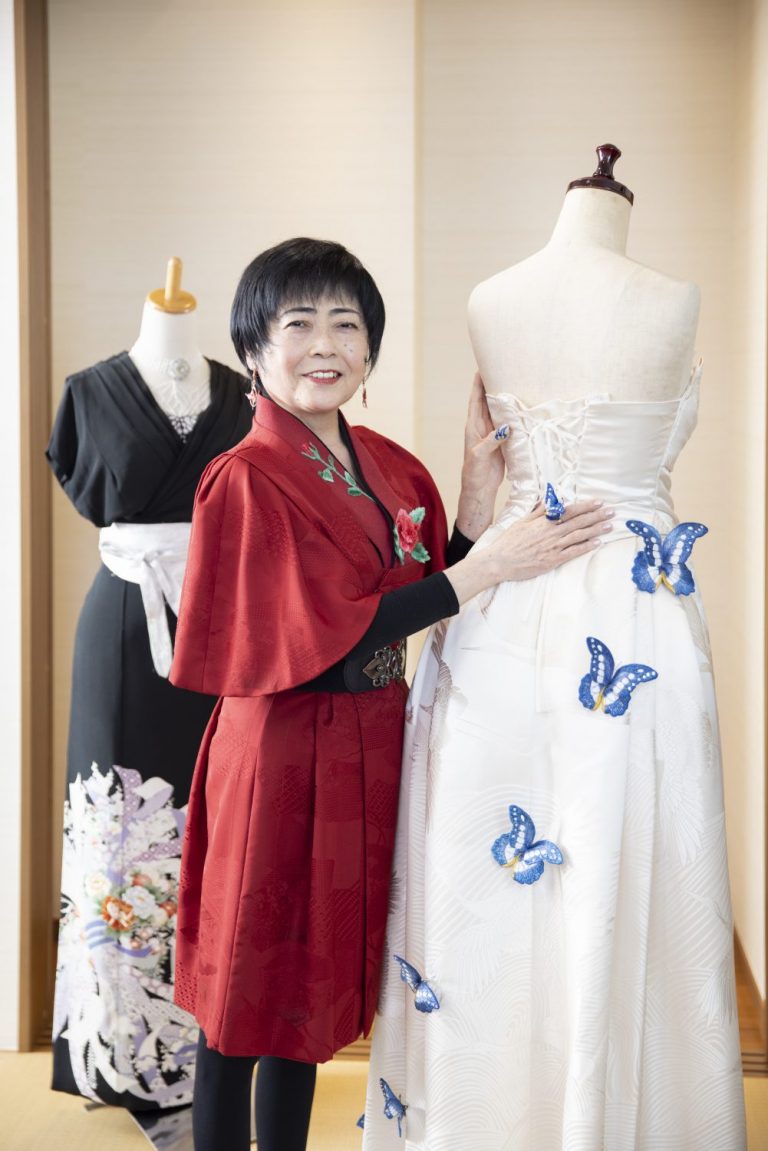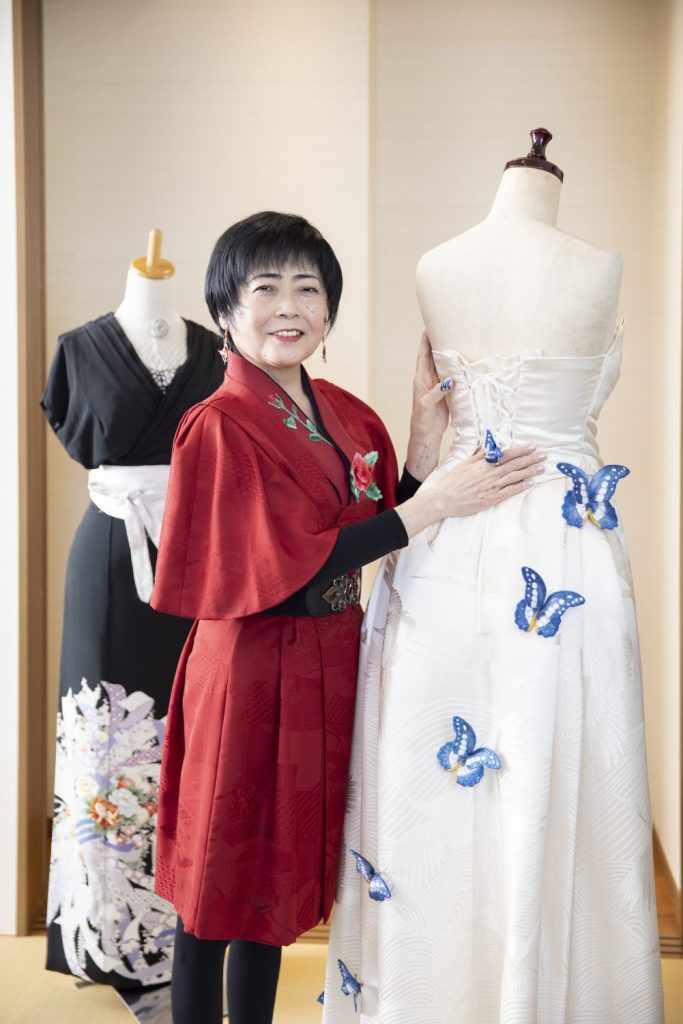 Birth of Sayoko Kitai's 3D-embroidered butterfly brooch
On one day in 2004, after being entranced by a dancing butterfly on TV, Sayoko Kitai began crafting a fully three-dimensional butterfly brooch. Using the double-sided 3D embroidery technique, butterfly wings were woven and attached to a brooch pin, which becomes its body, to make their form changeable. After honing this technique for three months, Sayoko Kitai finally developed one of the finest artworks of her brand.
Two years later, while helping one of her friends, a glass jeweler, at an exhibition in Ginza, Sayoko had an encounter that would transform her career. A director with luxury department store Matsuya Ginza fell in love with one of Sayoko's embroidery art pieces and asked her to show him other pieces she had done. After looking at these works, he invited Sayoko to hold a butterfly jewelry show. Sayoko agreed, and the resulting show two years later was a huge success.
For this show, Sayoko Kitai made a variety of butterfly-inspired embroidery artworks. Wires were used inside the wings, so more force was needed to apply when stitching 3D butterflies. Since multiple types of string materials are used, the force applied in the embroidery process changes, requiring different skills to master. After completing one wing on one day, it was difficult to stitch a symmetrical pair when stitching resumed on the following day, meaning it took at least 10 days (usually two weeks) to craft a single butterfly. Stitching butterflies with complicated patterns, such as Great Purple Emperors, while maintaining symmetry was an incredibly arduous process that took about three months. Ultimately, at her acclaimed show, Sayoko Kitai exhibited 80 butterflies.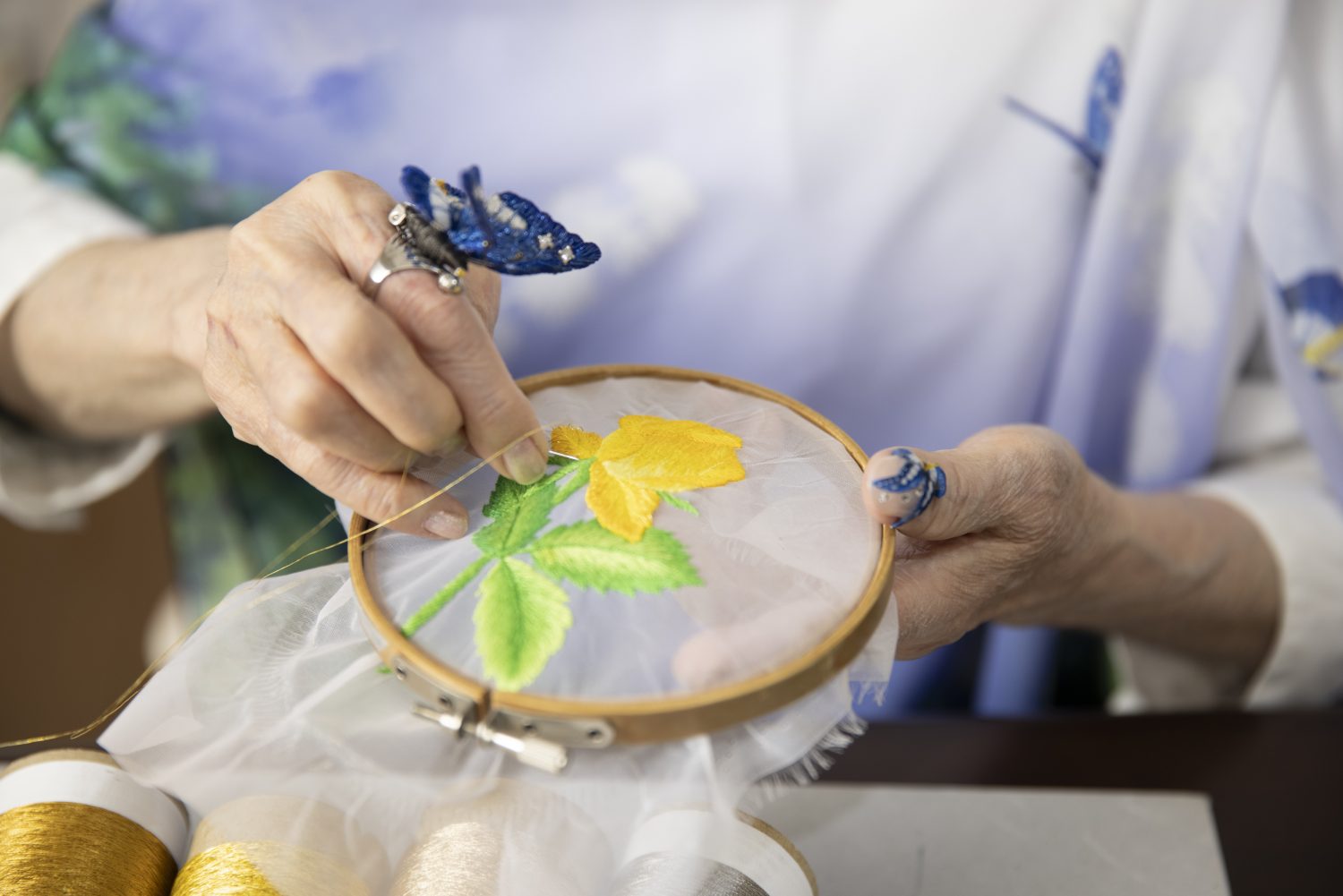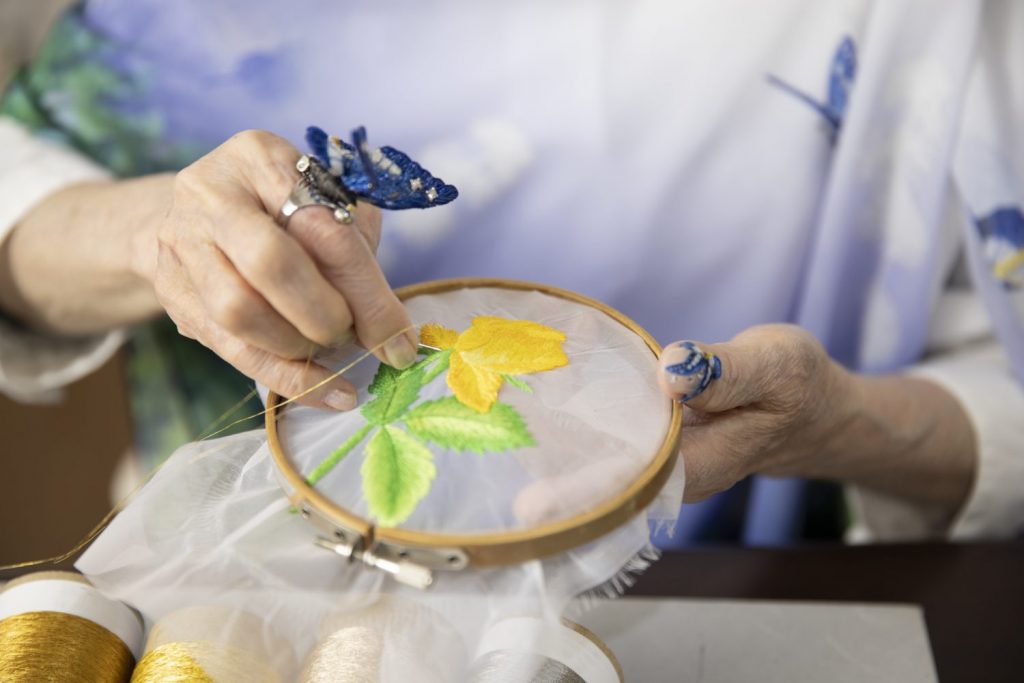 Embroidery artworks for the world
Sayoko earned a chance to show her works to the world. With her exhibition only days away, in a bold move, she sent an invitation to Yumi Katsura, a renowned Japanese bridal fashion designer, in the hope of her attending. "Despite never having met me before, Yumi Katsura visited my exhibition, looked at all my works, and said it would be great if we could do something together someday."
One year later, in September 2019, Yumi asked Sayoko to create bespoke items for dresses she would be presenting in her collection at Haute Couture Week in Paris and the Grand Collection in Tokyo – making one of Sayoko's dreams come true. This inspirational opportunity let Sayoko see how dress designs came together, and receive valuable behind-the-scenes experience with the grand fashion show. "Following that, Yumi also ordered additional items for dresses presented at the Grand Collection in Osaka. Meeting her changed my life greatly."
Sayoko Kitai continues creating new and exceptional works aggressively.
Career
2019
Provided embroidery works for Yumi Katsura's dresses presented at Paris Collection 2019
Provided embroidery works for Yumi Katsura's dresses presented at Yumi Katsura Grand Collection in Tokyo 2019
Held the Sayoko Kitai Exhibition at Saliot
Provided embroidery works for Yumi Katsura's dresses presented at Yumi Katsura Grand Collection in Osaka 2019
2018
Exhibited embroidery works for Tomy Dressmaking School's 60th anniversary exhibition, Myoumi-ten
2017
Held the Sayoko Kitai Exhibition at Chiba Bank Himawari Gallery, COREDO Nihonbashi
2016
Exhibited embroidery works for NDK Fashion Show at NHK Osaka Hall
2014
Exhibited embroidery works for Japan Expo 2014 WABI-SABI in Paris
2010
Exhibited embroidery and quilt works for the Genuine Handwork Exhibition at Museum Eki, Kyoto Isetan
2006
Held the Butterfly Jewelry Exhibition at Matsuya Ginza
1999
Launched Rittai-Shishyu Sayoko brand; registered the trademark of "Rittai-Shishyu"
Awards/Prizes
2022
A'DESIGN AWARD & COMPETITION 2022 winner in 2021 – 2022 Jewelry, Eyewear and Watch Design Award Category
2017
Encouragement Award winner at SALON BLANC International Exhibition of Contemporary Art
2016
Effort Award winner at NDK Fashion Show
2008
Keizai Sangyo Shimpo Award winner at New Creative Exhibition
1999
Won a prize in Comfortable Dining Space Contest, 7th Tableware Grand Prix
1994~
1998
Won Gold, Bronze, and other prizes at Creative Award Exhibition
1989~
1998
Won Grand Prix, Technique Award, etc., at 2nd – 6th Creative Exhibition, National Embroidery Competition (Organizer: The Mainichi Newspapers Co., Ltd)
Business Information
| | |
| --- | --- |
| Business Name | Rittai-Shisyuu Sayoko |
| President | Sayoko Kitai |
| Established | January 1, 2019 |
| Address | 1-6-1-303 Yakuendai, Funabashi, Chiba, 27400077, Japan |
| Business Description | Crafting and selling of jewelry and artworks using double-sided 3D embroidery and digitizing techniques |
| Fiscal Year | Starting from January 1 and ending on December 31 |
| Supporting Banks | Mizuho Bank, Ltd., Sumitomo Mitsui Banking Corporation |
| User Policy | User Policy |